Queensland Newspaper
Families could cut suicide toll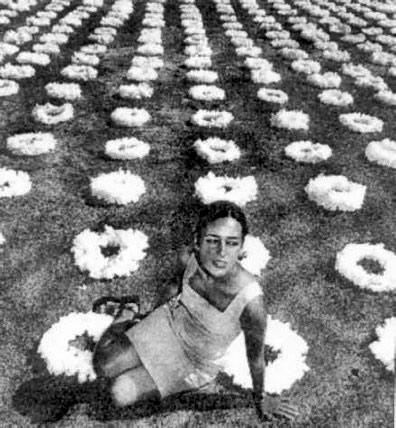 Carla Bassu at yesterday's White Wreath Day at Broadbeach
By Rachael Templeton
CARLA Bassu was surrounded by a sea of flowers but there was little to smile about.Each one of the 3000 white wreaths represented the suicide of an Australian.
Carla was among the friends and relatives of suicide victims who gathered in Broadbeach yesterday at a special memorial service.  Carla, an Italian exchange student, was a friend of of 19-year-old Jason Clark, who committed suicide in May last year.
The memorial service was told the trauma of suicide was exacerbated because family and friends of victims often were not aware problems were brewing. "Jason was funny and nice. I couldn't believe something so bad could happen to him to make him make this decision," said Carla. The service was told that relatives wanted doctor-patient confidentiality clauses for sufferers of mental illness changed.
Speakers said health guidelines made it difficult for relatives to be alerted to the fact that someone was considering suicide.  They were told more Australians died from suicide every year than were killed in road accidents.
The comments were made at the annual White Wreath Day, an initiative of the White Wreath Association.  A sea of white-flowered garlands, each laid in memory of a suicide victim and many accompanied by a photograph and name, covered the ground of Victoria Park.  White Wreath Association founder and mother of Jason Clark, Fanita, said her family had been prevented from helping him because doctors would not reveal the extent of his mental illness.
"We as a family were not allowed to be involved with my son's treatment because of confidentiality clauses. "He was deemed an adult and we were excluded from his treatment totally. "Within six months of his diagnonsis (of paranoia, schizophrenia and severe depression), my son killed himself. "Two months earlier, my son tried to kill himself twice in one day. (But) we were still told by the public health system that our son was OK. "Our family's concerns or opinions were never acknowledged or taken into account." She said that decisions regarding mental health patients' treatment should be left to families when an illness affected a person's judgement.