The Age newspaper, 25 November 1999
Remembering those who took their own lives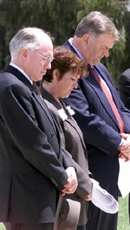 John Howard (left) and Kim Beazley with
Fanita Clark at White Wreath Day at Parliament House.
Picture: PAUL HARRIS
By DARREN GRAY
CANBERRA
The messages were short but they said plenty. Some simply contained a single name – "Ian", "Paul" or "Naomi".
Others were more expansive, "Twenty years", "Aged 24 years. Train", "Jumped off bridge, aged 20", and "Aged 21 years, hung himself".
The messages attached to the 2723 wreaths laying in front of Parliament House yesterday all told the same tragic tale. All remembered suicide victims.
The white plastic wreaths, laid out in a large square, represented the 2723 suicides recorded in Australia in 1997, the latest year for which figures are available. There were enough to cover a small sports field.
Mr Andrew Watson, 31, was at yesterday's inaugural White Wreath Day in Canberra to remember his youngest brother, Paul, who took his own life two-and-a-half-years ago, aged only 25.
Paul's dog "Spyder", now cared for by Mr Watson, was also there.
He described his youngest brother as an active young man, much loved by his family and friends, a man who loved the outdoors and a four-wheel-drive and water ski enthusiast.
He also described the hurt felt by his family when his brother suddenly took his own life, in his bedroom, inside the family home on Anzac Day in 1997.
"It was a shocking tragedy for my mother and father. It was devastation and something that they will never ever get over," Mr Watson said.
"For me it just left a big hole in my heart that will never, ever, ever be filled. It's a loss that I will always be asking why."
Raising the awareness of a silent cancer in modern Australian society, a subject too often regarded as taboo, was crucial, Mr Watson said.
The organiser and force behind White Wreath Day, Mrs Fanita Clark, had made many of the plastic wreaths laid out on the lawn. One was for her son Jason.
"My son, Jason Dean Clark, aged 19, thought he had no future. He was diagnosed with mental illness, lost all hope, and on the 29th of May 1999, he laid himself on a train track," she told the gathering.
Despite attempting suicide twice on one day, Mrs Clark said her son's predicament was underestimated by the public health system. And she strongly criticised laws that precluded her from being involved in her young son's medical treatment.
The 1998 suicide statistics will be released on Monday by the Australian Bureau of Statistics.