Denise never imagined her daughter was hiding such a deep sadness.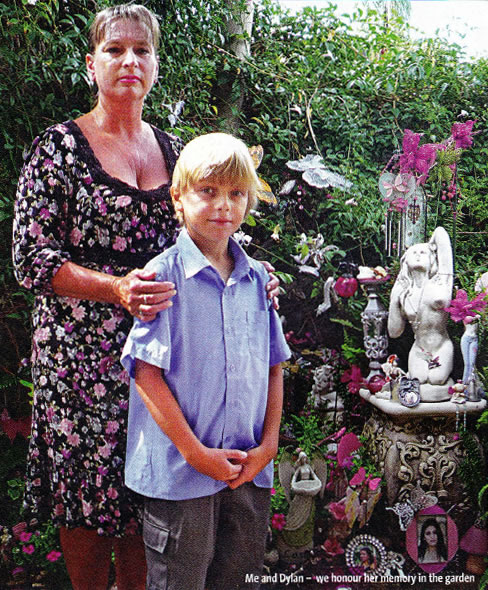 As I flipped through the newspaper, a photo of a smiling, blonde woman caught my eye. But as I read over it, I realised the story didn't match her radiant grin.
Diana Bliss, 57, the wife of entrepreneur Alan Bond, had taken her own life after losing a painful battle with mental illness. Rich, beautiful and with a loving family, she seemed to have it all. From the outside it is hard to understand how she could have been so unhappy.
But the sad truth is that you never really know what sadness a stranger, friend or even a loved one is hiding behind their smiles. I know because it happened to me.
My daughter Rochelle was the light of my life. A happy baby, I loved watching her blossom into a bubbly child. When we had our son Sean two years later, she easily slipped into her role as big sister. A daddy's girl, Rochelle shared a very special bond with my husband, Mike. They were simply inseparable and spent weekends rollerblading,riding bikes and going to the beach.
At six, Rochelle started jazz and tap lessons. She was a natural performer, prancing around the living room in her sequined leotard and dreaming of being a professional dancer. Never missing a performance, I was so proud of my baby girl.
As she grew up, she had her insecurities, like any normal teenage girl. But at 17, Rochelle met Peter* and fell head over heels in love. After a year together, she found out she was pregnant. Rochelle insisted on keeping the baby, but like any mum, I worried.
Rochelle was still so young herself. She had her dancing dreams. Could she really take care of a child of her own?
As her belly bloomed she proved us wrong. Even when her relationship with Peter crumbled, Rochelle was strong, putting all her energy into preparing for her baby. In June 2003 she gave birth to a beautiful boy, Dylan. Holding her son, I could see the devotion in her eyes and despite her age, motherhood came naturally.
At night, I'd creep into their room to check on Dylan but Rochelle would already be up, cradling him back to sleep. She took to motherhood with ease, but I noticed a sadness creeping into her eyes. When she split with Peter, it was as if a spark inside her had been extinguished.
Worried we went to doctors and counsellors, who gave her medication for depression. Despite living in a cloud of darkness, one light kept her going- Dylan. He brought a gleam of joy to her smiles.  Rochelle was going to come back to me. I just knew it.
As she started to turn her life around, she wanted to stand on her own two feet. She moved into a place just down the road and Sean moved into a granny flat in her backyard. We hoped a fresh start would boost her confidence. We never thought for one moment she'd do anything to hurt herself.
For the next six months she fought on, Dylan the centre of her life.  One day in December 2005, I popped over to see them.  I'll take Dylan out tomorrow, I promised.  Rochelle smiled as we hugged each other goodbye. 'No worries' she replied. Little did I know those were the last words my beautiful daughter would ever say to me.
Later that night Mike got a call from Sean. "It's Rochelle", he panicked. "I've got to go." Before I could say anything he rushed out, leaving me alone and confused. What happened?
Suddenly a loud banging erupted from the front door. "Rochelle's dead!" someone screamed outside. Paralysed by shock, I couldn't believe it. It had to be a mistake. My Rochelle… she couldn't be gone. Hysterical, I ran down the street to her house. To my horror, Mike was standing in a sea of flashing blue lights as the police and ambulance arrived.
The sorrow in his eyes confirmed my worst fears. No longer able to fight the darkness inside, Rochelle had taken her life. She was just 21. It's hard to explain how I felt in that moment As I sobbed in Mike's arms, it was as if I was drowning in sadness.
How could she leave us? I would have given anything to know what she was thinking in her final moments. I would never have let her stop fighting. In that moment I vowed to never let anything hurt Dylan. You'll live with us now, I soothed, drying his eyes. Mike and I were no longer just his grandparents but a mum and dad now too.
The days passed in a blur as we tried to accept Rochelle was gone.  I couldn't eat or sleep as guilt tore me apart.  How could I have missed the signs?  Could I have saved her?
On 31st December 2005, family and friends gathered at Centennial Park to say farewell.  Displaying her dance trophies and favourite childhood toys we honoured our beautiful daughter.  It was the hardest thing I've ever had to do.
Through White Wreath a charity that supports people touched by suicide we met other parents who sadly lost their child this way. With their help we started to heal.  Now six years on, not a day goes past when I don't think of Rochelle.  Each year we celebrate her life, releasing balloons at the beach.  We've placed her ashes in the garden so she'll always be with Dylan.
Through him she lives on.  When I miss my girl I close my eyes and see her dancing.  I hope my story encourages others to look for the signs we missed so they can avoid the pain of losing a loved one.  We will love you forever Rochelle my beautiful girl.
As told to Smita Mistry