Veteran Affairs Newspaper
May 2000
'God weeps with us'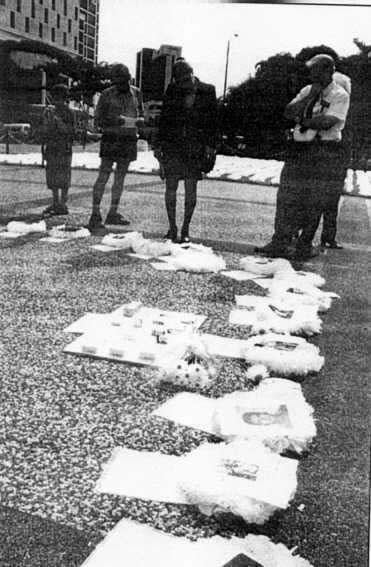 White wreaths, notes and photographs form a memorial
for suicide victims in Brisbane's King George Square.
SUICIDE was not only a personal tragedy, but a tragedy for God and the community, according to Bishop Ron Williams.
"I believe that God weeps with us," he told family members and friends of suicide victims at the White Wreath Memorial Service held in King George Square, Brisbane, on April 19.
"Can we, through this remembering of love and its tragic separation from us through suicide, make, as an Australian community, a fresh commitment to the ministry of acceptance, belonging and hope, which as a Christian, I find in the life of Jesus Christ, who is God's expression of deep and abiding love for every one of God's creations?" Bishop Williams said.
He said it was significant that the event, organised by the White Wreath Association, took place during Holy Week.
"We watch through the Passion, suffering and death of Jesus and celebrate His victory over death, and reality of His new life, and the hope that brings," he said.
More than 3000 white wreaths were laid in the square, each bearing the name of a suicide victim; some with photographs